Previously, there weren't any math solvers for the search appearance filter in Google Search Console. Google adds Math Solvers in the search appearance filter of the Google Search Console. It could help in making the user's experience easier in so many ways.
In this article, we will learn about the Math Solver, Search Appearance Filter, Google Search Console, and pros of the additional search appearance filter of the Math Solver. Let us learn about it all in detail.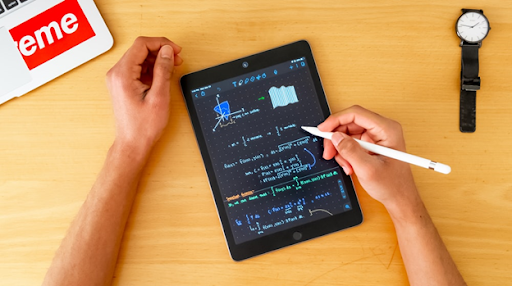 Math Solver
Math Solver helps in solving a variety of problems of mathematics such as arithmetic, trigonometry, calculus, algebra, statistics, etc.
With the algebra section, you can simplify, expand, factor, and factorize virtually any expression. A fraction can also be split into partial fractions, several fractions can be combined into one, or common factors within a fraction can be eliminated.
In the section of equation or system of equations, you can solve equations or systems of equations. Almost any mathematical answer can be obtained to almost any degree of accuracy, depending on the level of accuracy you require.
Inequalities can be solved for a single variable in the section of inequalities. Inequalities between two variables can also be plotted.
Differentiation is included in the calculus section, as is definite and indefinite integration.
Matrix manipulation commands are included in the Matrix section.
Equations and inequalities can be plotted using the graphs section.
Several percentage commands are provided to explain the most common types of percentage problems, and scientific notation is also addressed.
Since March, using the structured data and debugging tools, the Math Solver rich results have been enhanced. Late December 2020 was the first time we saw these results on Google. Math Solver Markup was expanded with six additional problems in June. Google's Search Console performance report now shows how well the Math Solver-rich results perform.
Google Search Console
In addition to measuring your site's search traffic and performance, Search Console reports and tools help in making improvements to the search performance of your site. Your site's search engine traffic can be tracked by these queries. Google search impressions, clicks, and positions can provide detailed insights into the success of your site.
Google Search Console publishes sitemaps and submits individual URLs to be crawled. It is vital for Google to have a view of your site that is as current as possible. Check your index coverage. If Google discovers a problem with your website, you'll receive emails. You can fix these URLs by checking the affected URLs and informing Google when a fix is ready.
The URL Inspection tool retrieves detailed information from the Google index on your page's crawl, index, and serving. Boost your website's organic traffic by optimizing your Google search appearance.
Improve your website through optimization and enhancement:
AMP. AMP pages can be monitored, tested, and tracked with Search Console tools and reports.
Mobile Usability. Using customized reports, improve the usability of your mobile site.
Rich Results. Rich results can appear as recipes or job results when you search on Google. Search Console reports can help you improve them.
Search Appearance Filter
A good tool for analyzing, monitoring, and understanding your website's performance is Google Search Console. But not every webmaster is familiar with every feature of the Google Search Console.
Search Console provides detailed statistics of Google searches, pages, countries, devices, search visibility, and search queries to website owners. A lot of time is spent researching new keywords and improving SEO services in mumbai using the "search queries" report? What about the appearance of search results? Let us understand it in detail.
AMP results that are non-rich, Articles that are AMP, listings of jobs, details of the jobs, review snippets, videos, and more can be compared or filtered using the Search Appearance filter in the old Search Analytics report of the Search Console.
Math Solver in Search Appearance Filter
A Google Search Console Performance report now allows you to visualize the performance of your Math Solvers markup. In the Google Search Console performance report search appearance options, Math Solvers rich results are available as a filter. You can now filter the practice problems/math solver structured markup in the same way you can filter the performance reports.
Google has announced this via Twitter, which says, "Following the Math Solvers Search Console enhancement report announcement a few weeks ago (link below), today we're adding this rich result as a search appearance on the Performance report to help you analyze its results." Google says it isan interactive feature, which helps in testing the knowledge of the user of high school physics, chemistry and maths topics directly on Search.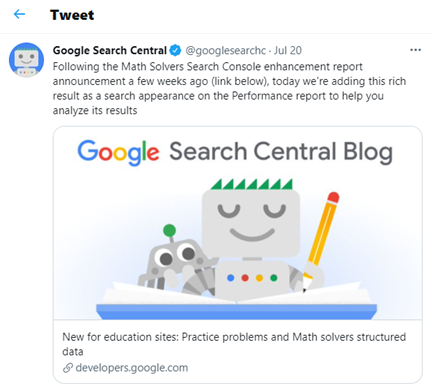 In the Google Search Console, you can easily see a new search appearance filter in the performance reports if your site does show Math Solvers rich results. See how well your results do in Google Search by using this new search appearance filter.
Performance metrics for your site in Google Search results are presented in the Google Search Console performance report: often appearance in search results; its average ranking; click-through rate; and any special features (such as rich results) accompanying the results.
Users can input their math equations into a math solver page and receive explanations on how to solve them. By entering an equation, such as x*9 + 5x = 0, a user would be able to see websites that explain how the equation came to be. Your website can be featured in Google Search when users enter a math equation into the Google Search box with the help of Math solvers structured data.
Conclusion
You may see this if you click on "new" and select "search appearance" in your performance report. This is if you have structured data for Math Solvers and appear in Google Search for it.
Using Math Solvers markup on our websites can help us determine whether our sites achieve higher search engine rankings. We see a significant increase in clicks to our websites due to the markup and rich results.
We hope that the above-provided information proves fruitful to you, thanks for reading!
People Also Looking For
Best SEO Company in Mumbai | Best Digital Marketing Company in Mumbai | Top Social Media Marketing Agency in Mumbai | Content Writing Companies in Mumbai | Web Development Company in Mumbai | PPC Agency in Mumbai | PR Agency in Mumbai | Mumbai SEO Company | SEO Company in India | Digital Marketing Agency in Mumbai | Social Media Marketing Agency in Mumbai | SEO Services in Mumbai | Mumbai Digital Marketing Agency | Web Design Company in Mumbai | Online Reputation Management Company in Mumbai | UI UX Design Company in Mumbai