The organic search traffic drop has remained a big question a few times. It seems so shocking to know about how the traffic with 3 to 4 digits drops back to 2 digits traffic someday. There are many theories going on since time about the organic search traffic drops.
Google finally opened up about the organic search traffic drop for the first time and illustrated it in detail. Google has categorized what organic search traffic drops look like. In this article, we will learn about organic search traffic drop, its types, categorize of the traffic drop, and how one should tackle the traffic drop.
Organic Search Traffic Drop
Organic search traffic is what the owner of a website or a web page is looking for. More traffic means more is the reach and the website or a web page will rank top in the Google search engine. However, sometimes it happens that without any prior information, the traffic drops over the website or a web page and it leads to a lot of misunderstanding for the owner.
A decrease in organic traffic should be addressed by checking your ranking first. Rank Ranger and Accurank are two tools that can be used to monitor your rankings. Occasionally, a sudden change in the Google algorithm might cause traffic to drop off suddenly, even though these tools indicate there is no drop in your rankings.
Now, check your website's status in Google Search Console if your traffic drops suddenly. Changes or issues can be notified to you through the platform. Using the tool, possible Index Coverage Errors can also be determined, which could shed light on the issue.
It is really important to understand why these traffic drops occur suddenly and how one can tackle this issue. Daniel Waisbery, a Google Search Advocate, explained in detail about what are the various types of organic search traffic drops in the performance reports in Google Search Console and how one can address these organic search traffic drops.
Traffic drop types
Google has posted sketches showing different types of traffic drops and explained what these traffic drops mean. The sketches help us understand the issues in the visual format. The issues named as:
Site-level technical issue
Manual Action
Seasonality
Page-level technical issue
Algorithm Changes
Disruption
Reporting glitch
Here are the organic search traffic drop issues sketches: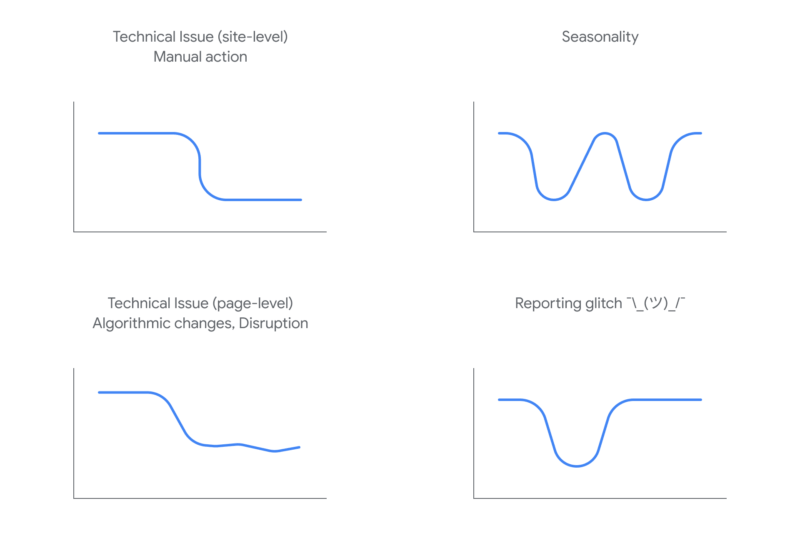 Categorization of the Organic Search Traffic Drop Issues
Since the issues may vary differently, these Organic Search Traffic Drop issues have been categorized by Google. Let us understand each of them one by one.
Technical Issues: Aside from server availability, robots.txt retrieving, pages not found, and other errors may prevent Google from crawling, indexing, or serving your pages. Now, technical issues have also been categorized into two different types:
Site-level Technical Issue: A drop-off in organic search traffic from Google can generally be seen when your site is affected by site-wide technical issues or manual actions by Google employees.
Page-level Technical Issue: You would see a slower decline in traffic due to technical issues that are page-by-page, or changes made to the algorithm like a core update.
Security Issues: In the event of a security breach, Google may notify users with warnings or interstitial pages before they reach your site, which may lower search traffic.
Manual Action: Creating a Manual Action for your site could result in it being omitted from Google Search results if it does not conform to Google's guidelines.
Algorithm Changes: A Google algorithm update can change the rankings of some pages in Google Search results because of the way Google assesses content.
Search interest disruption: A new trend or seasonality in the market may affect the demand for specific queries, or sometimes it is a change in user behavior. You may experience a drop in traffic simply because of external factors.
The other issues:
Seasonality: Likewise, seasonal factors play a role in the recovery of your business climate when the seasons change.
Reporting Glitch: Additionally, Google reports glitches in their Search Console from time to time, but these bounce back to normal.
What to do to prevent Organic Search Traffic Drop?
Those with newer search engine optimization company in mumbai may be able to find out more about how to dig into the reports to better understand your drop in traffic. Would it have been a reporting bug, an algorithmic change, or a manual action taken by Google? Thus, you can determine what kind of traffic drop you are experiencing.
Although these issues may be the reason for the sudden Organic Search Traffic Drop, it could be possible that your traffic has dropped genuinely. In that case, you need to determine the cause of the decline in search traffic. If it's not the Google Issues, it could be:
Changes to SERP
Changes in search intent or any unexpected event
Website redesign or migration
Lost the inbound links
Outdated or irrelevant content
Higher competition
These may be the cases in the drop of the organic search traffic other than the Google issues. Although one can easily report about the issues that came through Google, if the problem is through the website or webpage owner, it needs to be resolved by them.
One needs to take care about how they are making changes to the website, what contents they are posting, how is the competition in their field, and many other things that could have led to the decline in the Organic Search Traffic.
Conclusion
Such Organic Search Traffic Drop may create chaos for a while but there should be some issue in the background. Google has openly provided information about what must be the issues coming in your Search Traffic. It could be any one of them. Further, it can be reported to Google and resolved as well.
We hope that the above-provided information proves fruitful to you, thanks for reading!
People Also Looking For
Best SEO Company in Mumbai | Best Digital Marketing Company in Mumbai | Top Social Media Marketing Agency in Mumbai | Content Writing Companies in Mumbai | Web Development Company in Mumbai | PPC Agency in Mumbai | PR Agency in Mumbai | Mumbai SEO Company | SEO Company in India | Digital Marketing Agency in Mumbai | Social Media Marketing Agency in Mumbai | SEO Services in Mumbai | Mumbai Digital Marketing Agency | Web Design Company in Mumbai | Online Reputation Management Company in Mumbai | UI UX Design Company in Mumbai